Final Project Update
by
bijal
Tomorrow, I will begining working on cutting the fabric for my final project. To date, I have accomplished the following:
1. Generated and modified the vornoi diagram which will be used for the upper part of the dress: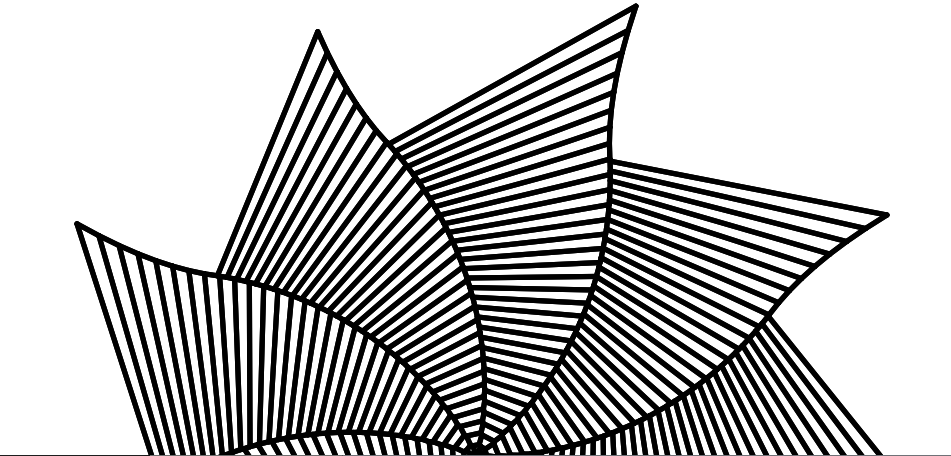 2. Created an adobe illustrator file of the scallops that will also need to be lasercut
Initially I planned on transferring all of the pattern pieces into illustrator and cutting the pattern pieces using a laser cutter. Although I was very excited about this option, it proved to be super time consuming and I wasn't able to make sure the dimensions were completely accurate. Given this, I decided to only use the lasercutter for the cutting the vornoi and scallop patterns.
3. Bought and studied the pattern that will be used to make the dress
4. Bought both pink and black polyester/cotton blended fabric to use for the dress, as well as a 22in zipper
5. Bought a 3.7V Polymer Lithium Ion Battery for Which I'm waiting for delivery
6. Acquired (from the Lab) nitinol which will provide a strong pull then before. Based on the voltage I will need the following current to flow through the nitinol:
Next Steps:
1. I will cut the fabric based on the patterns and get more information about booking the large laser cutter.
2. I will begin to test the flexinol on small pieces of fabric to see how it reacts
3. I will use double-side fusible on pieces of fabric that will then be laser cut into the vornoi and scallop designs and then cut then into the appropriate pattern shapes as well
4. I will then stitch the dress together
5. I will attached the nitinol to the appropriate places and then build out the circuit with a touch sensor as the on/off switch.